Keystone Compac and Standard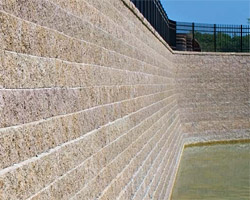 Classic Collection

The Keystone® Retaining Wall System is a structurally sound, aesthetically appealing, easy-to-install, and economical alternative to boulder, timber tie, and cast-in-place retaining walls. As a gravity wall system, the Keystone Standard unit provides the weight and stability to resist applied earth pressure for walls up to 60 feet high.


Specs
Compac Curved Face

8 x 18 x 12
Compac Straight Face

8 x 18 x 12
4in Universal Cap

4 x 18/12 x 10 1/2
Keystone Pin


Corner

18 x 9 x 8
All measurements are approximate.
Contact your local Belgard dealer for details.
Colors

HARD SPLIT - CATSKILL BROWN

HARD SPLIT - GRAY

HARD SPLIT - SARANAC BEIGE BLACK

SOFT SPLIT - BROWN

SOFT SPLIT - GRAY

SOFT SPLIT - TAN
Patterns
No pattern information is available for this product.

Areas We Service
... and all other surrounding areas.