Landscape Design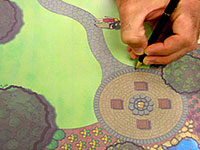 Matt's Landscaping was created twenty-five years ago designing and installing landscapes for local homeowners and businesses. Matt's Landscaping incorporates a variety of mediums in our landscapes such as; shrubs, trees, ground covers, flowers, boulders, rock walls, pavers, mulch and much more. Depending on the amount of space, sun light, and design preferences we strive to create a unique landscape for every homeowner or business owner.

Matt's can either help you design a landscape or we have the option of contacting local Landscape Architects who are licensed to design something simple or extraordinary. We can manage all types of budgets, from New Home Construction to existing homes. Prices vary but can range from $500 to $100,000 plus, it just depends on what you, the customer is looking to change, create or improve at your home or business. Feel free to call us for a free estimate at, 518.793.7999.

We specialize in the following areas:


Irrigation Systems, both New and Existing homes
Hydroseeding
Sod
Pavers for patios and driveways
Retaining Walls
York raking
Tree & Brush Removal
Mulch & Top Soil Delivery
Shrubs, Trees and mulch beds
Septic System removal & installations
Trucking & Excavating
Snow Plowing & Snow Removal, Commercial & Residential

Having "Curb Appeal" can only add to the value of your home and create a relaxing and inviting attitude to guests and potential home buyers.

We have many packages available for all of our services. Matt's Landscaping can also customize a package for you. Please give us a call to set an appointment. Satisfaction guaranteed!!!

Areas We Service
... and all other surrounding areas.