Quarziti 2.0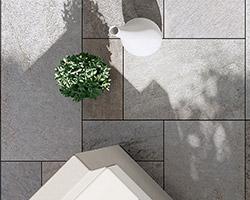 Transitional Collection *

Modular sizes are Special Order only, colors are subject to size.


Specs
Square

23.54 x 23.54 x ¾
Rectangle

17.64 x 35.35 x ¾
Large Rectangle

23.54 x 47.17 x ¾
Modular Rectangle Small

11.73 x 23.54 x ¾
Modular Rectangle Medium

23.54 x 35.35 x ¾
Unico


Unico pieces are processed on both sides with a rounded edge on one side and a square edge on the other. unico can be used both as a step and as a special piece for swimming pools.



12.99 x 23.54 x ¾
The nominal measurements include 4mm for product spacers which are sold separately. Although extreme care has been taken to ensure the accuracy of all measurements set forth herein, Manufacturer assumes no liability relating thereto. Contact your local Belgard dealer for details.
Colors

Glacier

Mantle (Not Available In Unico)

Mountains

River

Waterfall
Areas We Service
... and all other surrounding areas.