Old York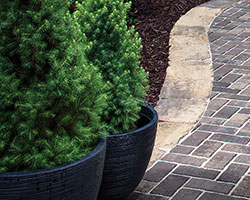 Classic Collection

Old York™ Pavers designed by Belgard® Hardscapes provide a natural yet elegant look that will bring your outdoor space to life. With the appearance of weathered clay brick and a wide assortment of face textures and installation patterns, Old York™ Pavers give you the means by which to create a unique and attractive outdoor area. Great for use in a wide range of hardscape projects.


Specs
Rectangle

3-15/16 x 7 7/8 x 2 3/8
All measurements are approximate.
Contact your local Belgard dealer for details.
Colors

Charcoal

Faneuil Hall

Silex Blend
Patterns

Running Bond

90° Herringbone

Basket Weave

Modified Basket Weave
Areas We Service
... and all other surrounding areas.