Lafitt Grana Slab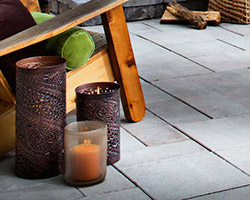 Transitional Collection

Lafitt™ Grana Slab pairs sleek contemporary style with modern durability and design innovation. This three piece modular slab features large scale units and a smooth finish, providing increased area coverage with fewer pieces and giving every outdoor space a grand appearance.


Specs
3 Piece 60mm

14 7/8 x 7-7/16 x 2 3/8
14 7/8 x 14 7/8 x 2 3/8
14 7/8 x 22-5/16 x 2 3/8
All measurements are approximate.
Contact your local Belgard dealer for details.
Colors

Brittany Blend

Brownstone

Danville Blend

Sable Blend

Silex Blend
Patterns

3 Piece Pattern A

3 Piece Pattern B

3 Piece Pattern C
Areas We Service
... and all other surrounding areas.